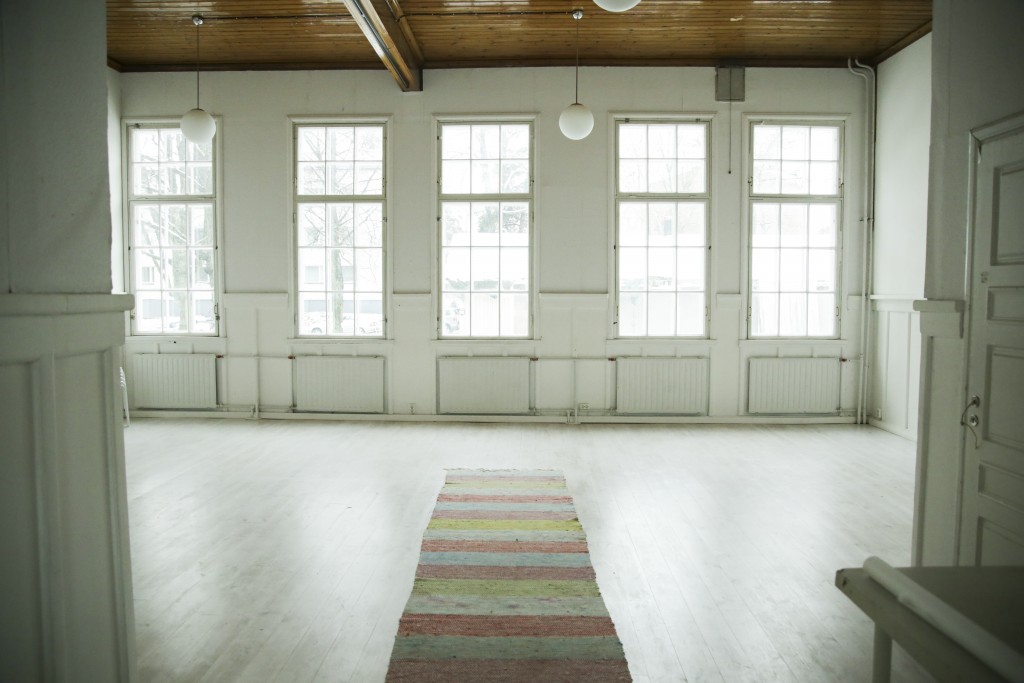 Asematila is a cultural space established in 2015 in the Huopalahti station building's former waiting room. Asematila can be reached with the trains S, U, L, E, A, P and I. During its first two years, the space has served as a place for a wide range of cultural activities from performances and workshops, to collective dinners and daytime naps.
From spring 2018 ahead Asematila's operations will be renewed. The new programme of Asematila includes two monthly events, Tupaklubi and Kirjaklubi, an acoustic music club and a book club. The old traditions of Asematila are maintained by Asemalabra, which offers cultural operators a free space for searching and sharing. In addition, the space is rented for private use when there is no other events. The rental activities cover maintenance costs such as water, electricity and waste management.
The activities are coordinated by the non-profit organization Asematila ry, which aim to support versatile and interactive cultural activities. In addition, the aim of the association is to constantly ask what kind of spaces of operation and sharing are needed, what kind of spaces we are dreaming about and how Asematila can be an inspiring and safe place to experience, make and experiment.
Huopalahti station is a building designed by Bruno Granholm, which was completed in the early 20th century and has been renovated in 2015. The building is owned by producer Liisa Akimof and the building is currently most in residential use.
To respect the station building's community, Asematila is silent from 21–09.
Follow Asematila at Facebook: https://www.facebook.com/asematila/?fref=ts
– – – – – – – – – – – – – – – – – – – – – – – – – – – – – – – – – – – –
Asematila on Huopalahden asemarakennuksen entiseen odotushalliin vuonna 2015 perustettu kulttuuritila lähijunien S, U, L, E, A, P ja I varrella. Asematilan kahden ensimmäisen vuoden aikana tila on toiminut paikkana monenlaiselle kulttuuritoiminnalle esitystaiteesta työpajoihin, kollektiivisiin päivällisiin ja päiväuniin.
Keväästä 2018 eteen päin Asematilan toiminta uudistuu. Asematilan uusi sykli sisältää kuukausittain tapahtuvan Tupaklubin ja Kirjaklubin. Asematilan vanhoja perinteitä ylläpitää Asemalabra, joka tarjoaa kulttuuritoimijoille ilmaisen tilan oman äänen etsimiselle ja jakamiselle. Lisäksi tilaa vuokrataan yksityiseen käyttöön silloin, kun tilassa ei ole muuta tapahtumaa. Tilan vuokratuotoilla katetaan tilan ylläpitokustannuksia, kuten vesi, sähkö ja jätehuolto.
Tilaa koordinoi voittoa tavoittelematon Asematila ry, jonka toiminnan tavoitteena on vaalia monipuolista ja vuorovaikutteista toimintaa tilassa. Lisäksi yhdistyksen tavoitteena on alituiseen kysyä, millaisia toiminnan ja jakamisen tiloja tarvitaan, millaisista tiloista me/te/he unelmoivat ja kuinka Asematila voi olla inspiroiva ja turvallinen paikka kokea, tehdä ja kokeilla.
Huopalahden asema on 1900-luvun alussa valmistunut Bruno Granholmin suunnittelema rakennus, joka on peruskorjattu vuonna 2015. Rakennuksen omistaa tuottaja Liisa Akimof ja rakennus on odotushallia lukuunottamatta tätä nykyä asuinkäytössä.
Kunnioittaaksemme asemarakennuksen asuinyhteisöä, Asematila hiljenee aina klo 21–09.
Seuraa Asematilaa Facebookissa : https://www.facebook.com/asematila/?fref=ts